My Online Coaching Program is very exclusive. I am currently only accepting applications for 10 more individuals who are willing to put in at least 12 WEEKS of work with me. That is 3 MONTHS – of course, you can get results in 6-8 weeks, but that additional 4 weeks are what fine-tune your progress and improves the high-level retention of those results! This is not cheap. Neither is a $1,500 handbag from Dubai or the Porsche in your driveway, but I'm sure you've heard the high level of their quality.
I am taking SERIOUS applicants only as I do not feel ANY need to waste either of our time or money. If you are willing to work your butt off and take my time and guidance seriously then you will see the success you are looking for! This will include a few things including checking in with me weekly and supplying me with your training and nutrition logs every week. THIS IS AN ORDER NOT AN OPTION.  People do not always follow through with this because they simply lack true desire for more accountability to a process given to them to reach success.  Don't worry, it might already sound like a lot, but I use a minimalist approach to reaching near maximal results.  Efficiency is key.
Yes, you will have to dedicate a little extra time to this, but we are talking about your Health, Well-being, and overall positive development (mentally and physically)…something that should be closer to the top of your priority list, if not at the very top. The extra time spent will 110% filter itself into every other aspect of your life, only making you better! No matter how you define success (happiness, finances, relationships, possessions, etc), the most successful people are almost always healthier, stronger, and have a deeper and stronger mental state to include high levels of self-awareness to daily life.
What is included with online coaching?
If you asked, then great for you.  If you had not asked yet well then here it is.  I use a really spectacular and free training app called Trainerize to program all of your sessions on a calendar.  Everything (exercise/movement) comes with a demonstration video and detailed written instructions(extra tips and modifications for you). Over the course of the 3-months, you will have something programmed seven days a week. Your goal is to be active 70-80% of what is on that calendar.  You'll learn and develop by doing! That's almost 100 sessions in case life gets busy and fall behind. Do not get scared..some of those sessions are meant for recovery. "Active Rest days" do not mean lazy bed and couch days.  3-4 days will be the strength and muscle building days out of the week for most people.   Exercises I choose are based on abilities, experience, goals, and equipment availability. 
It is an easy 1-stop shop for the client and trainer. As stated before, your training sessions can be found there on the calendar, but you can also use it as a training journal as you track your weights used, and check off recommended Reps and Sets. You can track your body stats. You can upload before and after pictures(this is not optional by the way). You can journal your food through the MyFitnessPal app that easily syncs to Trainerize. You can link your Fitbit to it if you use one. The calendar will have your task list scheduled in the appropriate order. There is a messaging tool so we can keep in direct contact with each other.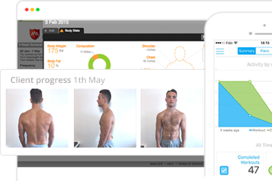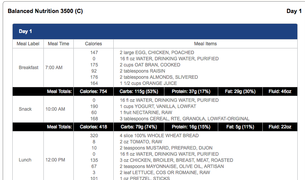 All of this tracking will be imperative for your success. It allows me to see what's going on so that I can tweak both your training and/or nutrition as needed. Because your success is dependent on me being able to change things up when needed, I will not waiver on this. Tracking must happen. If you stay up with it every day as you move through the program, you will never have to worry about it. Like I tell everyone, the best way to keep your car going longer and stronger is to keep up the most basic maintenance every so often and not drive it like a jackass.
… it wasn't until I trained with Jim that I got the PERSONAL element of personal training. Jim became familiar with my personal goals for the upcoming track season and made sure every session was taking me towards that goal. 
Nicole Aragon
 I had been lifting for years… then I made the decision to hire a professional to help me cut weight. I called Jim Swift at 212 lbs. and in a couple of months, Jim had me down to 185 lbs while still lifting heavy.
Garrett Delgado
 Jim's online workout plans were easy to follow and catered to my goals using the equipment I had available in my garage gym. He included videos for each move and was always there to answer questions… 
Krystal Jolly
Along with your Trainerize program that has the workouts listed, if you desire precise meal plans to help reach your Health, Performance and Physique goals, then Precision Nutrition Coaching is included in this program.  I do not take the macro-nutrient counting approach for 90% of my clients because it creates a mess of work for both of us and there are more simplistic approaches that will not stress you out.  Like going back to Home Economics and measuring your protein sources in Ounces and your side dishes in cups (Think about how the chicken breasts are portioned at your store- each cut is in ounces and typically 4-6oz at that). 
Habit-Based Nutrition Counseling and Fitness Management
This program would not be worth the money you will pay at the bottom if it did not include management tips and advise via email, or text message.  I can tell you what to do on your Trainerize App and exactly how much of what to eat every meal, every day, each week and you would not fully learn anything.  Yes, you will still reach success but you can be further educated and not a mindless sheep in the process.  You will learn Problem Solving Tips and receive management support for both for when you hit some bumps in the road or before I anticipate based off past experiences when those bumps will occur.  I email you 1-3 things a week to help keep you engaged.  Yes, I know, more "work" now you that you have FREE content to read each week, but do not worry, it's put in a context even your dog can understand.
Like I stated before, this is not cheap. I do not dabble in cheap and would not sleep well at night if I handed you a cheap product. Sorry, not my style. You are getting a very experienced coach with over 11 years in the game to keep you accountable. You are getting access to a training app that will have everything you could possibly need to find the success you are looking for. You are getting nutrition advice as well as recipe books. You will have access to me as a resource and I promise you, 24 hours will never go by without you hearing back from me if you need anything.
****
The obligation is 3 months at a monthly draft of $150/month
OR
1 YEAR for 1 payment of $1,200 (30% savings!!!*)
****
*With the 1 Year option, you will receive 12 months of coaching for the price of 8.5 months!
Training sessions can be geared towards whatever equipment you have available. However, whether you have equipment available or not, I suggest a jump rope and a good kettlebell. It's hard to beat the versatility here. For guys who have never played with a kettlebell before, I would suggest a 16kg or 35lb bell as a starter; ladies, I would say 8-9kg or 18-20lbs. If you do have experience with bells, I'll leave it up to you; just do what's right.  Of course, various sets of dumbbells, medicine balls, and if you have a gym pass already or your home has a lot to offer, then we will use anything necessary at your disposal.  I assist in helping you shop for gym equipment at home that doesn't take up a whole room.  Play It Again Sports for example here in San Antonio, TX has used dumbbells and kettlebells for $.60/lb and competitive pricing on medicine balls also.  
The Time is Now!
Contact me today…  please select "Exclusive Online Coaching" and add any other information you wish to send in the comments — have at it!  I will connect with you first through email then set up a Zoom or Skype appointment to go over the details you provided me and I will clarify the rules of the game.